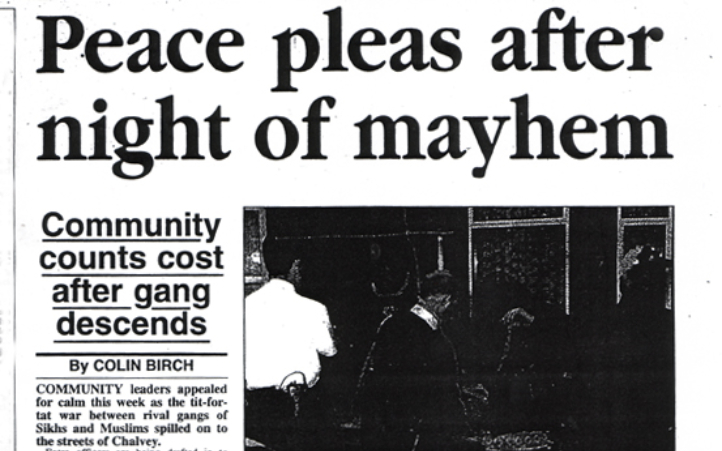 Together As One (Aik Saath) was founded due to tensions in Slough between young Sikhs, Hindus and Muslims during the late 1990s. The scale and severity of the tensions sent shockwaves through our community. These newspaper clipping shed some light on what happened during a dark chapter in Slough's history.
These clippings are from microfiches at The Curve (Slough Library). Consequently, the scans are not very high quality but we can still learn a lot from them.
1996
The Sikh young people identified themselves as Shere (Lions) of the Punjab. The initials "SP" were graffitied extensively over Slough, often on roadsigns pointing towards Chalvey.
Part of the article focuses on the 'neglect' of young people by the County Council – Slough became a unitary authority in April 1998, with the abolition of Berkshire County Council.
1997
This article was published several months later. The severity of the violence involved is clear with a local businessman stating that he had seen "swords, baseball bats, axes, clubs and knives."
1998
This article was published almost two years after the first and the level of violence involved is shocking. In addition to the severed hand in the headline, there are also details of a broken ankle. Interestingly, one of the victims is aged 38 – older than we might have assumed when the violence has generally been characterised as being driven by young people. The police cited a minor driving incident as being the spark behind the violence, indicating the extent of community tensions at the time.
This is a piece focused on the sister of one of the men involved. She calls for peace and a de-escalation of the conflict. Perhaps calls for an end to the violence were more pronounced from women at the time. Certainly, Dr Dudley Weeks, the international mediator who advocated for the establishment of Aik Saath, felt that a gender perspective and the empowerment of women might help resolve the tensions.
1999
This article was published almost three years after the first, underlying how protracted the tensions were. There is also the suggestion within the article that the attacks were quite targeted, raising the possibility that the tensions had evolved into a dispute between two select gangs with specific memberships, rather than a free-for-all involving 'just anyone' from the communities.